Renting an electric vehicle – Mercedes EQE
22 / 06 / 2023
Do you want to experience a new, premium driving experience? What do you think about renting an electric vehicle with a driver?
A new addition to our services – renting an electric vehicle with a driver. The Mercedes-Benz electric model is now available in our offer because we are setting new trends in driving! If you follow this constellation, you know that the brand is great in terms of practicality as well as driving dynamics.
Great potential range, abundant performance, luxury, and advanced technology are combined to create an attractive new offer for those seeking a business limousine or luxury vehicle for special occasions.
Top-notch electric vehicle from Mercedes-Benz is now available to you!
We are proud to announce that we are the first in Serbia to introduce a fully electric vehicle into our fleet – the Mercedes EQE 350 with a maximum power of 215 kW (288 hp). Aerodynamics played a major role in the design of this vehicle, while the ultimate "wow" effect is provided by the optional hyperscreen. Even without this hyperscreen, the state-of-the-art system can receive "over-the-air" updates.
Another eye-catching technical feature is rear-wheel steering. At low speeds, the rear wheels turn slightly towards the outer side of the angle, significantly reducing the turning radius. At higher speeds, however, they rotate with the front wheels to increase stability.
Without a doubt, this model offers you premium comfort during your drive.
It is equipped with a multitude of desirable features, including a Burmester stereo system with 15 speakers, a wireless smartphone charging pad, dashboard navigation, electric heated front seats, automatic high beams, blind spot monitoring, lane-keeping assist, and much more.
The battery has an estimated total capacity of 98 kWh, with a usable capacity of 89 kWh. Charging is done using a Type 2 connector, and the built-in charger has a maximum power of 11 kW, which means that a fully depleted battery can be charged in approximately 9 hours and 45 minutes. Charging this car using a standard wall outlet will take about 45 hours and 45 minutes. Fast charging is possible via CCS connection, with a maximum fast charging power of 170 kW. Of course, you don't have to worry about this at the moment, as our drivers take care of charging the battery and monitoring everything related to this vehicle.
All you have to do is sit back and relax. Leave the rest to us.
The energy consumption of this electric vehicle will depend on several factors, including climate, terrain, use of climate control systems, and driving style.
We understand the importance of taking care of the environment..
Renting electric cars means driving in a low-emission zone, which is highly significant as a preparation for future restrictive public policies. If you rent an electric car with a driver for business purposes, the reduced environmental impact will support your corporate social responsibility policy. The Mercedes EQE 350 emits zero CO2 during driving, while vehicles with internal combustion engines will always emit CO2 during operation.
Futuristic vehicle interior
The Mercedes EQE 350 model combines elegant design with premium materials, generous passenger space, and ample storage compartments. When equipped with the optional Hyperscreen, which transforms the dashboard into a giant glass panel with multiple digital displays, it takes on a breathtaking futuristic design.
The floating center console separates the front seats, which come standard with heated and ventilated cushions – these can also be upgraded with massage functions. Every EQE model features a panoramic sunroof and adjustable ambient interior lighting that complements the instrument panel and doors, creating a clear illuminated aesthetic.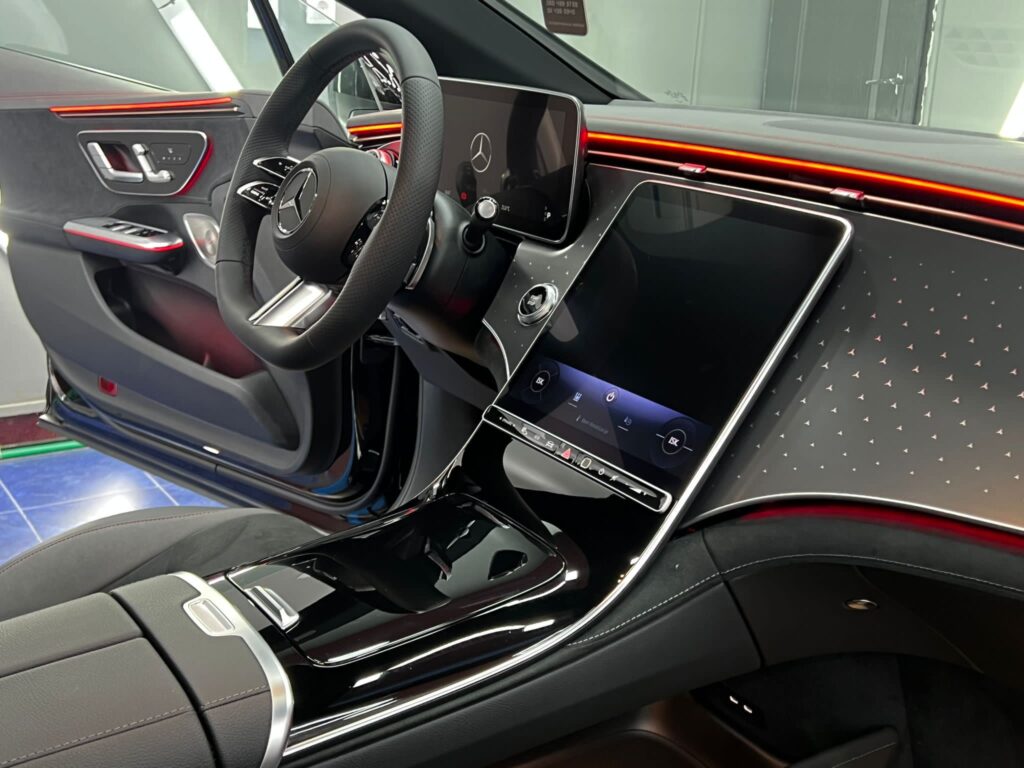 What other advantages can you experience when you rent an electric vehicle with a driver?
The Mercedes EQE 350 is equipped with a multitude of technologies and can be upgraded with a range of even more advanced features. The options list includes: a 360-degree camera system, automatic high beams, and a self-parking function.
Standard collision warning and automated emergency braking
Standard lane departure warning and lane-keeping assist
Available adaptive cruise control with stop-and-go technology.
Our professional drivers have undergone rigorous training in handling electric vehicles, so along with all the safety features included in these modern models, you also have the assurance of being in safe hands with our driver.
Because your safety during the journey is imperative.
Car enthusiasts and those seeking the perfect vehicle in which to ride will certainly appreciate the opportunity to experience a completely different quality of driving in a next-generation electric car! Renting an electric vehicle with a driver is, therefore, an excellent opportunity to feel the renowned "royal ride" effect.
BG Diplomat is creating new trends in driving!
Electric vehicles are the epitome of the future that has been around for a while now. However, we acknowledge that these models are quite expensive and not all enthusiasts of these modern four-wheelers can afford them.
That's why there is now an option to rent an electric vehicle with a driver and experience all its performance while being completely relieved of the responsibility of navigating the new technologies.
Until recently, this service may not have been available to you, but we are here to introduce innovations and set trends.
In order to be proactive and bring the future to the Serbian market, we will strive to acquire other models of electric vehicles in addition to the Mercedes EQE.
BG Diplomat, as the most comprehensive limo service & rent a car company in Serbia, guarantees safety, comfort, and luxury during every moment of your ride in our vehicles.
We believe this is a very good business model that will pay off in the long run. In return, we will provide our customers with a unique opportunity to be part of the future, starting now.